Duck Cake
Season 2 – EPISODE 43

This year, Bingo has chosen a duck cake for her birthday, because it makes her tail wag. But it's the hardest cake in the book to make!

Dad tells Bluey if she wants to help him, she has to clean up her toys first, but nothing can tempt her to do it, not even star stickers. 
Meanwhile Dad is carefully putting the cake together, but it all goes wrong when he drops the duck cake head on the floor!

Seeing how defeated Dad is, Bluey cleans up the cake mess for Dad and helps him fix it. Dad says a big thank you to Bluey, which makes her tail wag. Now she's found a really good reason to clean up.
This Is The Episode Where…
Bingo decides to have a duck-shaped cake – a 'Duck Cake'! – for her birthday.
Bluey learns that her tail wags when she helps to tidy up.
Bluey is excited to lick the icing off the cake mixer. "At last, you are mine!"
Mum, how do animals with no tails know when they're happy?
S2E43 – Duck Cake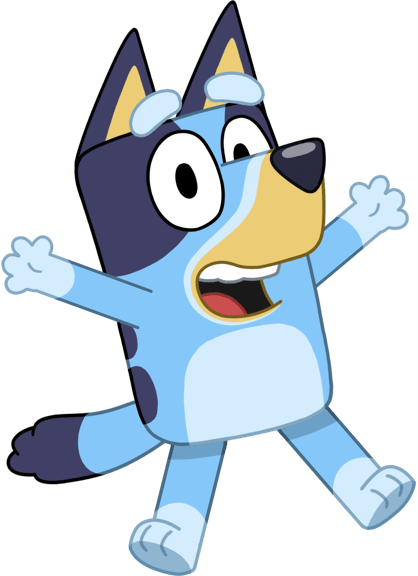 Watch Bluey On