Pizza Girls
Season 3 – EPISODE 19
Bluey and Bingo are outside making mud pizzas; Bingo makes the pizzas while Bluey uses her old pedal car to deliver them to the grownups.
When the pedal car's wheel keeps falling off, Bluey asks Mum for a new car. Mum insists that the pedal car is full of stories, something Bluey doesn't understand.

When Socks and Muffin roll up in their new electric toy car, the kids play with the new car instead.

But when the electric car's battery dies, they have to go back to using the pedal car. Bluey now rediscovers the joy of the old car when she invents new stories where Muffin is the car mechanic. 
This Is The Episode Where…
Using scoops of mud, Bluey and Bingo pretend to work in a pizza shop.
Uncle Stripe has just bought a new car and it came with an electric ride-oncer for Muffin!
Dad really, really doesn't want mushrooms on his pizza!
Pedaly (Bluey's pedal car) keeps breaking.
Thanks, pizza sister! See you soon.
S3E19 – Pizza Girls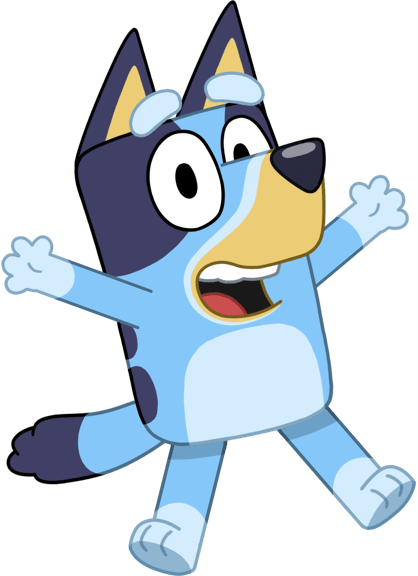 Watch Bluey On