Rug Island
Season 2 – EPISODE 10

Before going to work, Dad washes ashore on Rug Island-a magical land where everything's made from coloured felt pens.

Bluey and Bingo show him the island ways of fishing, foraging and fire building. Just as Dad is settling in, their isolation is disturbed by a football from next door. 
Faced with returning the ball or continuing the game, Dad embraces his inner kid and defends their 'white chocolate egg' from the interloper, earning his place as officially 'not a grown up'. As Dad finally leaves RugIsland for work, Bingo gives him a pen of his own-a gift that means everything
This Is The Episode Where…
Bluey and Bingo use colouring pens in an imaginative island adventure game.
Dad wants to stay on 'Rug Island' even though he's an adult. 
Bluey, Bingo and Dad pretend that Lucky's Dad's ball is actually an egg!
Lucky's Dad gets attacked by a big snake made out of the colouring pens!
"I told you, Bingo. Grown Ups don't belong on Rug Island"
S2E10 – Rug Island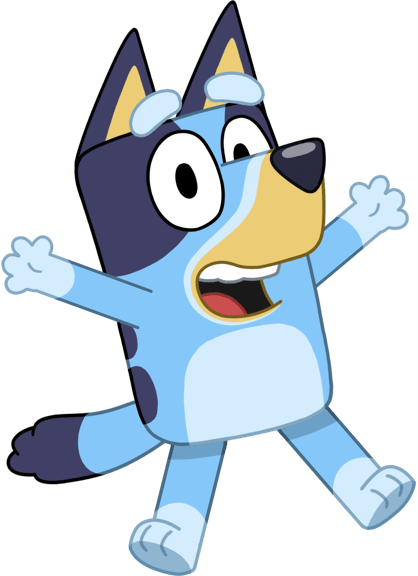 Watch Bluey On