Q&A Making the Bluey House
Find out how the Heelers home was made into real life, with Q&A with Yvette Turnbull.
How did you get involved in creating the Bluey House?
I come from a background of theatre and designing for the stage and set, and costume design. Recently I had the pleasure of working on Bluey's Big Play, alongside the design team and then there was a wonderful phone call asking me to work on this very special project.
What role did you play in transforming the Bluey house?
I was tasked with translating the cartoon home to a real life house in Brisbane. So that involved everything from scouting a house to having walls painted and working with an entire construction team to fully reconstruct the exterior of the property, to then having custom furniture and props and rugs made.
Also, in Bluey-land the house does seem a little bit never-ending, a little bit like a TARDIS, but in reality, we did have to make a home that people could come stay in. So trying to find the balance in that.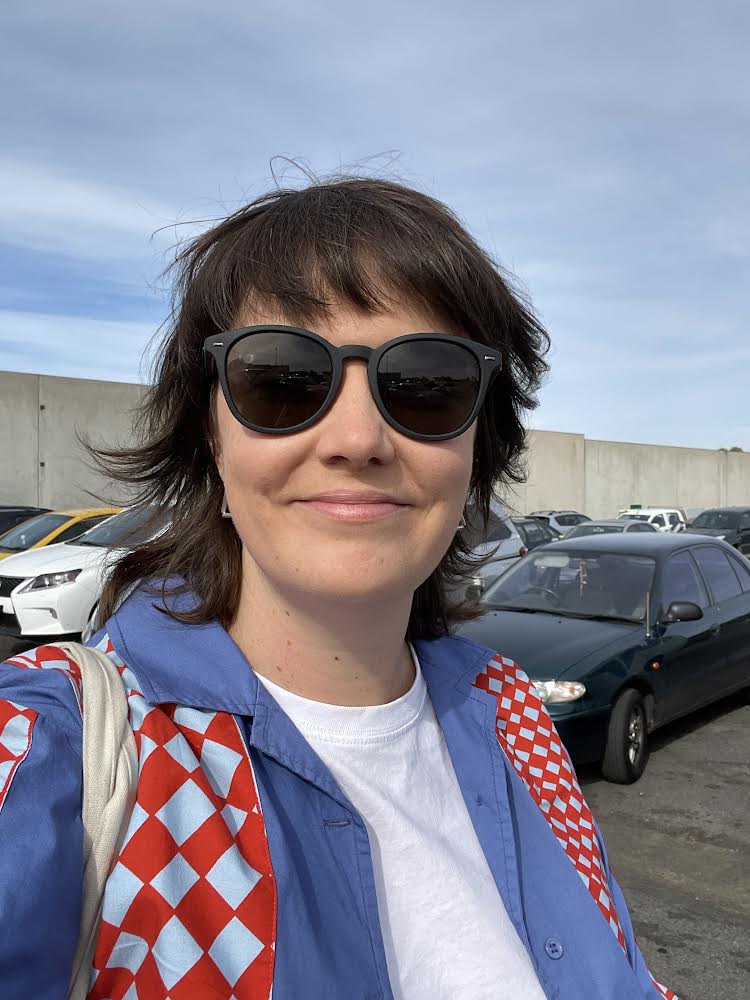 Have you worked on a project like this before?
No! This is a very unique project and I actually have had a difficult time trying to explain it to a lot of people what it actually was!
In my line of work, when something like that cross your path you say "YES!", but also I think personally I love working on things that are a little bit different and a little bit left of centre. So, translating a cartoon to real life sounded perfect to me.
How did you prepare yourself? What sort of research did you do?
It's such a wonderful TV show and there's so much content and so much there for me to draw from, so just watching Bluey episodes! Going through and working out what were the main details in the Healer home that we want to highlight and feature.
What were some of the key things that you knew absolutely HAD to be in?
The girl's bedroom was a 'hero' room for us, and for me one of the key elements in that room was the gorgeous stained glass window. Also their unique beds and that pink multi-toned colour palette that's in the space.
Similarly, the playroom was another key room for us, so again it was playing with that colour scheme and making sure it's instantly recognisable. And then of course we had to make a Chattermax to go in the playroom!
What took the longest?
I think one of the most significant things we did, (and I'm really glad we did) was to reconstruct the facade of the house to look more like the Heeler home.
The amazing designers from Ludo Studios have kind of created a jigsaw of a Queensland house. It's not quite a worker's cottage, it's this amalgamation of styles so it was a difficult one to replicate! We added the bay window and the weatherboard trim and the extra details to re-create that Heeler home facade. It turned out great, and was so worth it!

What was your favourite thing to create?
Ohhhhh that's a trifficult one. I have a few favorite things. I love that we had a duck cake made for the kitchen….. Hmmm but i think my favorite thing in the end was actually the stained glass window that was made for the girl's bedroom. It was so stunning.
What about all the cool thing inside the Heeler House? Where did they come from?
We had so many amazing artisans work with us. Being a cartoon that had to be translated to real life you can't exactly go to the shops and buy a lot of these things found in the Heeler House.
We had a lot of stuff custom made. One of the same creators I worked with on Bluey's Big Play that created the puppets, made some of our gorgeous soft toys and plush objects. They also made our gnomes and the amazing outdoor Buddha that you see.
The local team who did the exterior of the house also worked on some of the woodwork based props. They handmade a great mushroom table and chair that goes out on the back deck. They created them from actual stumps and logs and hand carved and then painted them. They were stunning!
We had custom couches made for the playroom as well, little mini foam couches, digitally printed fabric, and we had two rugs (the watermelon and the Kiwi rug) hand-tufted by an artisan using a tufting gun, which we colour matched exactly.
There were so many custom made elements for this, which was a real treasure and a real joy to have the opportunity to as closely as we could fully realise this space. To see it come to life for the fans and the lucky guests who got to stay was magical.
Was it hard to keep the project under wraps because it's so exciting to work on?
It was, especially because I think because we did have a COVID interruption. So i had to go back home, carry on with life and come back and work on it intensely and then go home again. It's been a big one to hold on to for quite so long and I hope everyone enjoyed it as much as I enjoyed working on it.
What was the best part about being involved in this project?
Alongs the lines of what I was saying earlier is we got to work with so many amazing suppliers and I got to work with three fabulous teams across BBC, Airbnb and Ludo studios, and everyone was so accommodating and so lovely. The collaboration across all of the teams working towards this greater goal of bringing this house to the fans, and how much careful time and consideration went into it was wonderful. And we hope it was enjoyed.
And finally, who is your favourite Bluey character? And why?
I'm going to say Chattermax. Because Chattermax is great. Always interrupting. I think it's perfect!
Feeling inspired?
Watch Yvette in action while she makes the house in real life, during this short video.