Get the gang together and take them on a journey in your DIY Bluey bus. Scroll down for the instructions.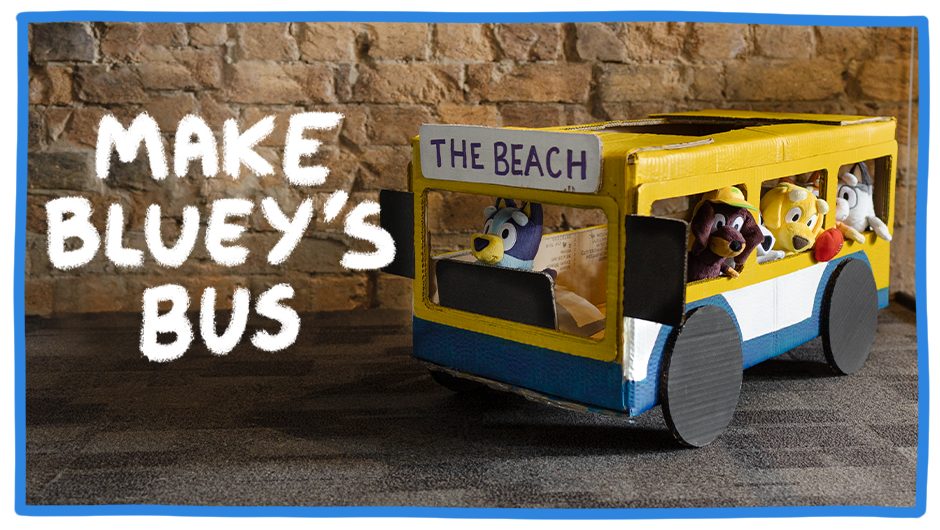 You will need:
A cardboard box (the size you'd like your bus to be)
More cardboard for the wheels
PVA glue
Paint to decorate
Ask a grown-up to help with these tools; ruler, utility knife, level and permanent marker
To make the bus
Outline the box with the shape of the windows using your permanent marker. You can make windows on the front, the back and the sides of the bus.
Unfold your box and cut out the windows using a utility knife. You'll need a grown-up's help for this step.
Use a plate or any round object to outline four wheels and then use your utility knife to cut them out.
Cut out and stick a cardboard outline for your windows.
Stick your box all back together using glue. You may wish to cut a hole at the top of your bus so you can easily access the inside when playing Bus.
Using any spare cardboard you can make some side mirrors and a dashboard. Stick these on as well as the wheels in place using your PVA glue.
Now it's ready for decoration. You can paint and decorate your bus in any way you'd like.