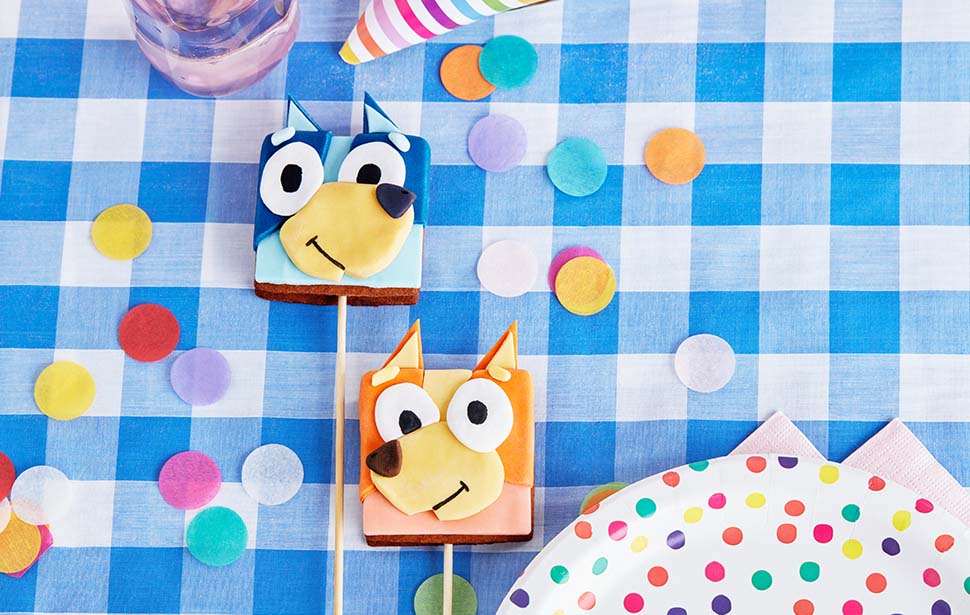 Bake and decorate your own bite-sized Bluey and Bingo with this recipe from steven carter-bailey.
Gingerbread
180g plain flour
½ tsp bicarbonate of soda
1 tsp ground ginger
½ tsp mixed spice
Zest of 1 orange
60g unsalted butter
90g light soft brown sugar
1 medium egg
1 tbsp runny honey
Note: Make sure a grown up helps with small pieces, preparation and baking.
Keep the dough wrapped up and in the fridge for up to a week in case you want to get ahead.
Preheat the oven to 180 C fan and line a baking sheet with some greaseproof paper, unless your pan is non-stick.
In a large bowl, or in a stand mixer, mix together the dry ingredients with the butter (use clean hands if you're not using a stand mixer).
Add the honey and the egg and slowly mix the dough together until it forms a ball. Turn this out onto a floured surface and knead until the dough is smooth. Wrap in cling film and refrigerate for a minimum of 20 minutes.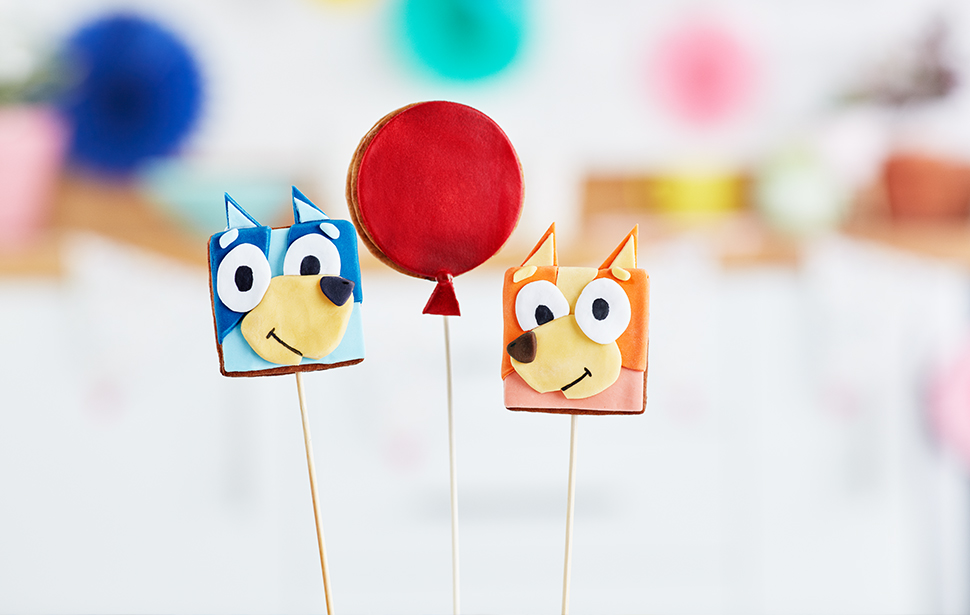 Roll out the dough on a floured surface until it's about 3-4mm thick. Use a floured cookie cutter to make the shapes of your biscuits (I used a square for the family, a circle for the balloons and cut a large circle into quarters for the watermelon).
Transfer the shapes to the baking sheet and place them 2-3cm apart. Refrigerate for another 20-30 minutes and then bake for 8-10 minutes — keep a close eye on these as some ovens may vary and can burn the biscuits very easily.
Remove your shapes from the oven and allow them to cool for a few minutes before using a palette knife to transfer them to a rack to cool completely.
Store the cooled biscuits in an airtight container for up to a week.
Recipe by Steven Carter-Bailey
How to decorate your biscuits
If you're making more than one biscuit, I recommend you get everything set up like a production line, with each stage separated out.
I stick the fondant shapes to the biscuits using a small amount of royal icing from a box. I do this because it's a lot easier and because the pre-mixed icing doesn't contain raw egg whites, making it safer to eat for little ones.
For the Bluey and Bandit biscuits, I used a square cookie cutter to shape the biscuits and to cut out the fondant in the same shape. I rolled out the first piece of fondant to about 3-4mm. To create the shapes of the patches, snouts, ears, etc., I rolled out the different coloured fondants and used a very sharp kitchen knife to cut them out. I used dots of royal icing to stick the shapes to the main piece of fondant.
To stop bits falling off whilst the faces are drying, I made these flat on a non-stick baking try and then dried them overnight, before sticking them to the biscuits – remember to cover any royal icing you're not using to prevent it from drying out.
For the red balloon, I used a round cutter to shape the biscuit and the fondant. I shaped a little triangle on the bottom of each circle to look like the knot. These were covered in red fondant, but you can use all sorts of colours – why not make a multi-coloured balloon?
For the watermelon shape, I cut out a large circle and then cut that into quarters (I repeated this for the fondant).
The colours were painted on using food colouring and clean paintbrush. The little black seeds can be made with little bits of fondant or black food colouring.
If you want to stick your biscuits to lolly sticks, then flip them over and use some of the royal icing as glue – these will need to dry overnight. You can then wrap them in cellophane, tie with a ribbon and give them as party favours.