How to make a homemade Creek
Take Bluey, Bingo and Bandit on a trip to 'The Creek'! Here's a guide on how to build your own play tray with the help of your little one so they can enjoy an outdoor adventure in your own home.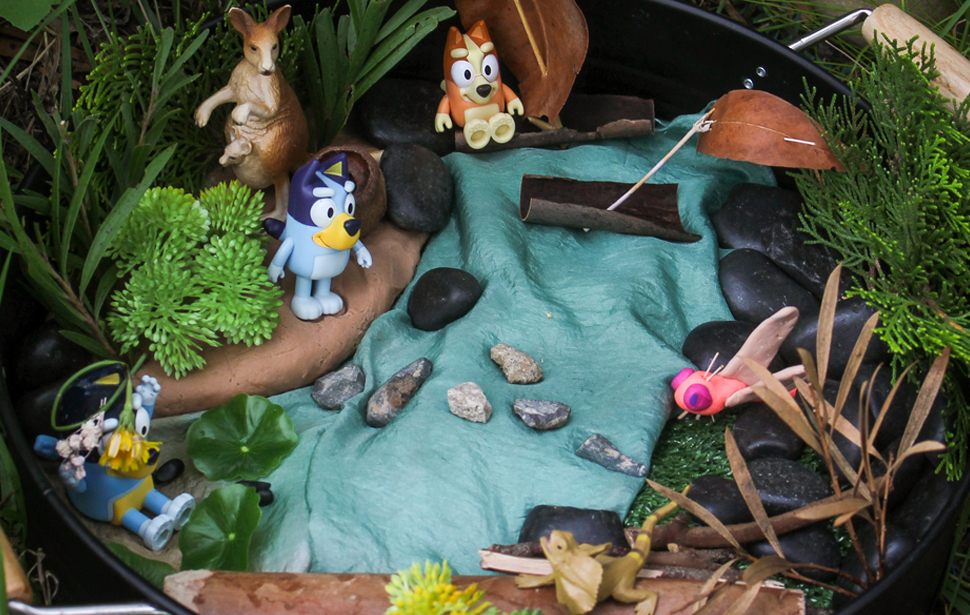 Only use what you already have at home and add your own creative touches!
What you need:
Tray or pan
Bark and twigs
Leaves from trees and bushes
Flowers
Stones or pebbles
Playdough
Play silk, fabric or paper
Animals (plastic figures or drawings)
A patch of fake grass, real grass from your garden or fabric
How to make The Creek play tray:
Nature items for the greenery
Have an adventure with your little one, explore your garden and see what you can find. Flowers, bark, stones or leaves will work well. If you don't have a garden you can use fake leaves, plants or flowers.
Grass for your setting
Cut a piece of fake grass to sit in the bottom of your play tray. Alternatively, you can use real grass from your own backyard, green coloured paper or white paper coloured in with a green colouring pencil.
Playdough for the mud bank
Here's a recipe for making your own playdough (using chocolate powder to colour it brown). However if you already have playdough, make use of the scraps and mush them together to make a brown coloured mud bank.
Play silk, fabric or paper for the water
Cut a piece of play silk to fit the base of your tray to create the water. Alternatively, use whatever resources you have to hand; fabric, crepe paper, pasta, or playdough in another colour are all great options.
Make animals or add your own
The animals featured in the picture include a frill neck lizard and a kangaroo. If you already have plastic animal toys, these can be used. Only use toys you're happy to wash afterwards in case playtime gets a little messy.
You can shape playdough to make tadpoles and a dragonfly. Leeches can be made by using a thin ribbon. You can always print pictures or draw your own on paper to add into your creek!
Bark, a twig and a leaf for the boat
You will need a piece of bark for the base, a stick for the mast and a leaf for the sail. If you don't have bark to hand, use paper or cardboard to form the base.
Bandit is enjoying his spa day complete with a flower crown! Have fun by adding your own touches.

Building The Creek play tray:
Get creative and arrange your tray in your own unique way or follow the steps below to create the creek featured in the picture.
Lay down grass on one side of your tray
Lay down playdough on the opposite side of the tray
Lay the water in the centre, overlapping the grass
Place larger rocks and a 'log' over the edges of the water to secure it in place
Place smaller rocks through the creek as stepping stones
Put extra rocks throughout the rest of the tray
Place the boats in the water
Decorate with leaves and bushes (rocks can be used to keep them in place)
Add the characters and animals
Give Bandit a flower crown and add your own touches!
Have fun playing 'The Creek'.
Here are some more backyard adventures you can enjoy!