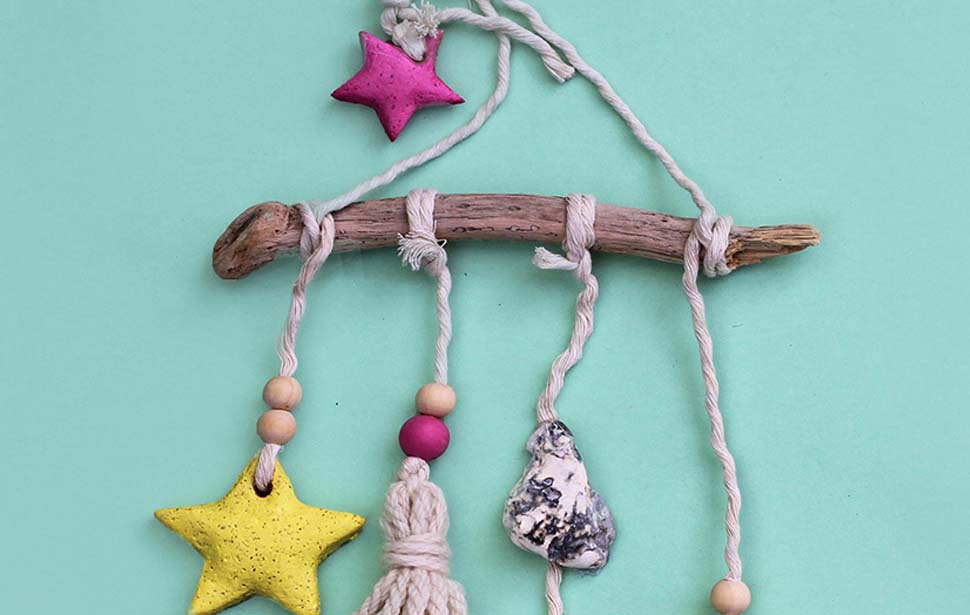 MAKE YOUR VERY OWN nATURE MOBILE TO HANG IN YOUR BEDROOM JUST LIKE BLUEY AND BINGO!
You will need:
2 cups of plain flour – 1 cup of salt
3/4 cups of water
Star cookie cutters – Paint
Thick string or wool
Wooden beads (optional) – Nature finds such as shells or gum nuts
A thick stick
Note: Adult supervision needed
Instructions
Mix together the salt and flour then add the water gradually till the ingredients are combined. Knead the dough with your hands till it forms a nice, even consistency.
Roll out the dough on a board and press some stars.
Poke a hole in each one then place on baking paper and bake in the oven for 2 hours on 120 degrees.
While your stars are baking go on a nature hunt! Collect shells, pinecones, gum nuts or anything else you can find. Keep an eye out for a thick stick to hang your treasures on.
Paint your shapes in different colours and for an extra special touch, add some painted beads.
To make a tassel cut between 10-20 threads of wool and fold them in half. Take an extra piece of wool and wrap it around the top of your bundle leaving about 2cm at the top. Tie in a knot and trim the ends.
Assemble the mobile by tying the stars, tassel, beads and nature finds onto the big stick.
Find the perfect place in your room, hang and enjoy!