How to make a Bluey marionette
Ready, set, dance! Make your own Bluey marionette and let her dance along to your favourite music.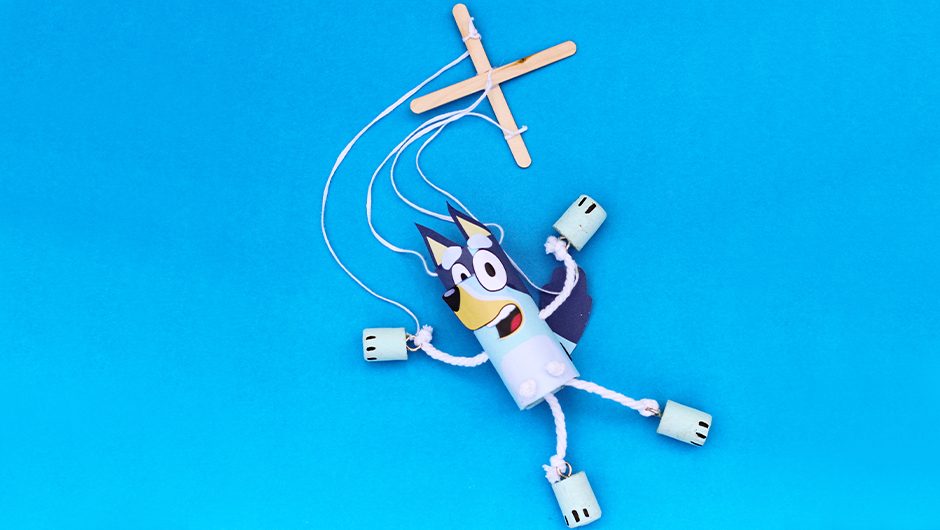 Note: Make sure a grown up helps with scissors and small pieces
You will need
Bluey marionette printable template (download below)
A toilet roll/craft tube
Coloured paper- medium, light and dark blue +yellow/beige
A glue stick
2x craft sticks
4 x small eye screws
4 x corks
Light blue paint
4 x 20cm lengths of String
4 x 10 cm lengths of macramé cord or thin rope
To make:
Cut enough medium blue coloured paper to wrap around the paper tube.
Carefully cut out all the character pieces from the templates provided, and with a pencil/marker, transfer all the shapes to their respective coloured papers. Ask a grown-up to help here.
Cover the top of the paper tube with the dark blue coloured paper
Glue Bluey's face in the centre of the head. Don't forget to leave some space above the face for her eyebrows.
Glue all the other template pieces on to the paper tube.
Ask a grown-up to make two holes for blueys legs, two holes for her arms and two smaller holes on either side of her head. A sharp tool will work or a pair of scissors.
Thread through each of the pieces of macrame cord making sure to knot each one in place.
Paint your corks light blue. Once dry, screw in an eye hook to each one.
Tie a cork onto each arm and leg then trim the ends.
Take your craft sticks and glue or stick them together into a cross shape.
Take your thinner string and tie one piece to each of the eye hooks in blueys arms and the other two in the small holes on either side of Bluey's head.
Tie the strings from the head to the middle of the cross and the strings for the arms to the sides as in the picture.
Turn on some tunes and dance!