How to make a Bluey cake – garbage truck
It tastes better than it sounds….we promise! Follow the instructions below and download the recipe.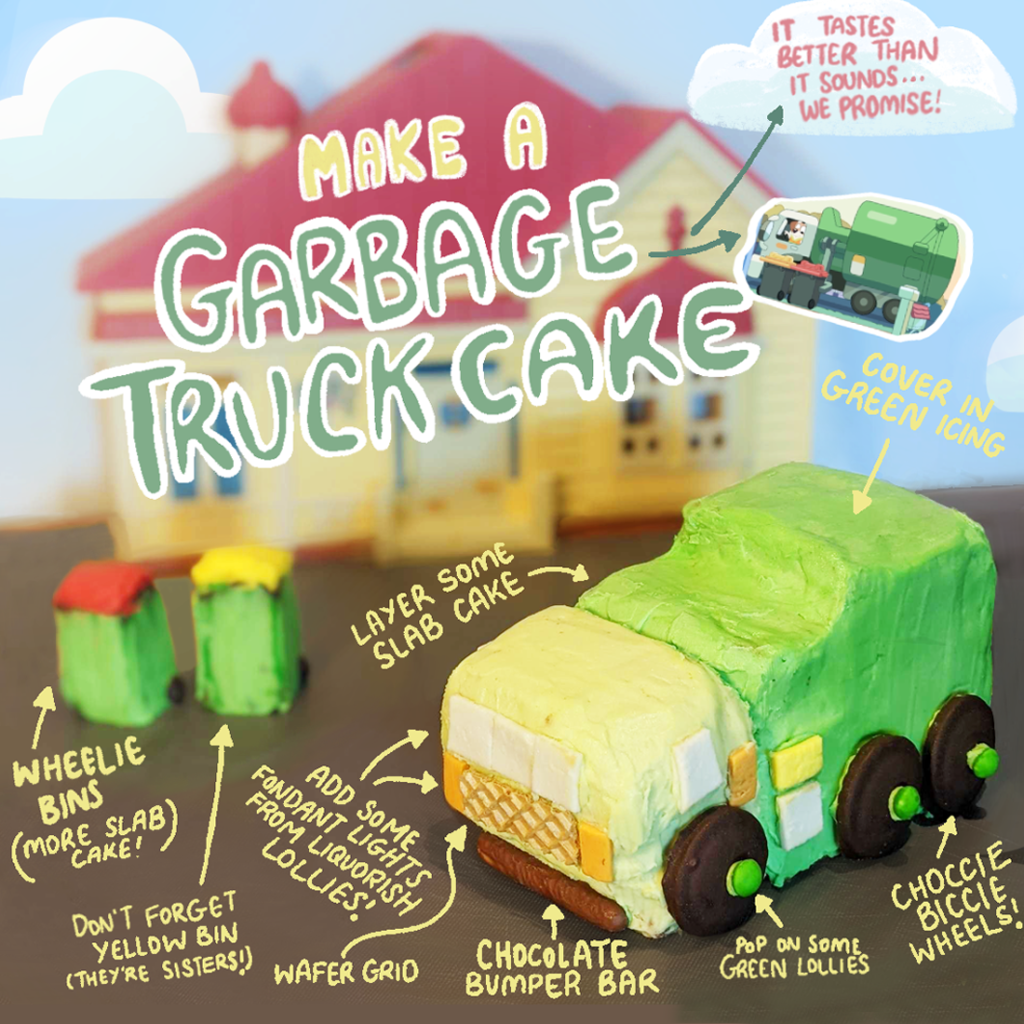 INGREDIENTS:
CAKE:
2 x pre-bought slab cake in your favourite flavour (you can also make your own if you'd prefer!)
ICING:
You'll need lots of icing! (we used a 250g easy butter recipe to make ours)
Green, yellow and red food colouring.
DECORATIONS:
6 x round chocolate biccies for the wheel tyres
2 x chocolate fingers for the bumper bars
1 x wafer for the truck's grid
Some green (inner truck wheels) and brown (rubbish bin
wheels) round lollies
Some liquorish lollies (we used the fondant part of these to make the lights)
Method:
NOTE: If you're baking your own cakes make sure you've allowed time for the cakes to cool before shaping, icing and decorating.,
TIP: Before layering your slab cakes on top of each other, you might like to add some icing in between layers to help stick them together.
Cut your cakes to match the pictured shape
Prepare your icing. Place 1/4 of your icing into a small bowl and tint light green (using a small amount of green colouring).
Next, tint a tablespoon of icing red and do the same for yellow in separate small bowls.
Tine the remaining icing a darker green
Using any leftover slab cake you can cut your two wheelie bins by cutting out some rectangles
Cover the back section of the truck and the sides of the wheelie bins in green icing
Cover the front section of the truck in the lighter green. We recommend covering the truck with your first layer of icing before placing it in the fridge for 30 minutes to set. You can then go back over with a second layer of icing.
Keep a little bit of icing for later when sticking the inner wheels (round lollies) to the tyres (chocolate biscuits).
Now for the fun part! It's time to add the rest of the decorations as seen in the below diagram (you can use your leftover icing to help everything stick).