How to grow your own strawberries
Perfect for the kitchen window, or the veranda. Follow or download the instructions below and grow your own strawbs.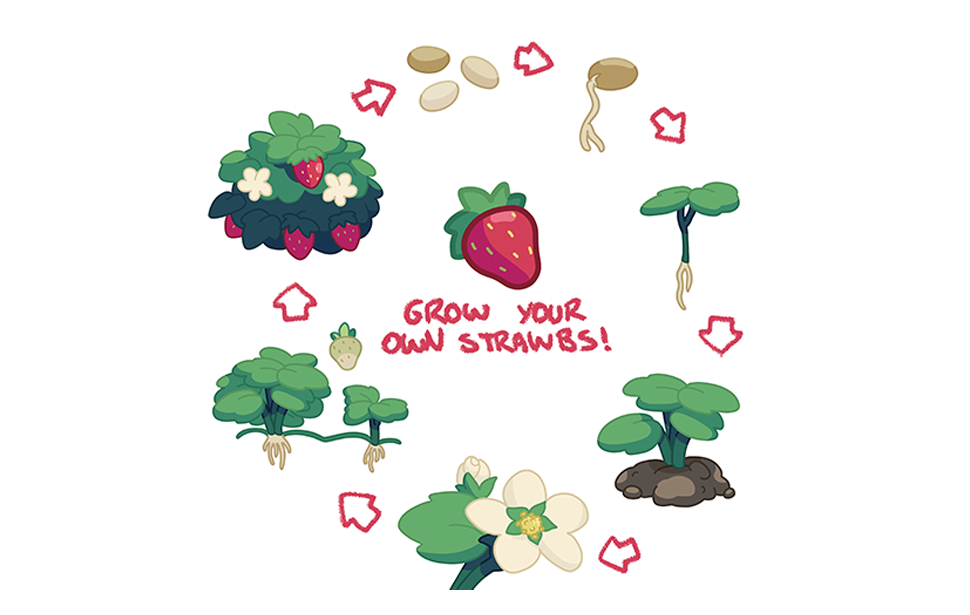 What you'll need:
Some strawberries (each strawberry has around 200 seeds!)
Paper towel or a dishcloth
1 x zip lock bag or container
A large shallow tray or a few smaller ones. This is where the seeds will start to germinate before they are moved into their permanent pot. Tip: you can even use the plastic container you bought the strawberries in!
A pot to plant them in. Make sure there are drainage holes in the bottom.
Seed raising mix or potting soil
It will take about 12 months for your plant to bear fruit but it will be worth the wait!
What you'll need to do:
Pick out the seeds from your strawberries. You can pick as many as you like, but we'd suggest at least 40-50.
Lay the seeds out on a wet paper towel or dishcloth.
Put this in a zip lock bag or container and place in the fridge for at least 2 weeks. If you leave them for a month, the results will be even better!
Take the seeds out of the fridge, leaving them to come up to room temperature inside their bag or container.
Depending on how many seeds you want to plant, add soil or seed raising mix to a pot or tray of your choice. Make sure the soil is level and flat.
Sow your seeds evenly across the top of soil. Do not cover the seeds with soil, just place them on top.
Gently water the surface.
Keep the seeds warm, moist and in the light until the seeds germinate – which can happen within 2-3weeks.
After another 8 weeks of growth, they are ready to be moved into their permanent positions. This is when you can transfer the strawberry plants to a larger pot on your windowsill or your garden bed if you have space. (You might even see some flowers at this stage!)
When repotting your plants, place them 30cm apart to give them some room to grow!
Keep your strawberry plants in full sun. Make sure to keep the soil moist and well drained.
Your plant will continue to grow and produce fruits over the next few months. So just sit back and enjoy!