Camping maple biscuit tent
Let's go camping! This delicious biscuit tent makes the perfect post-play snack.
Note: Make sure a grown up helps with small pieces, preparation and baking.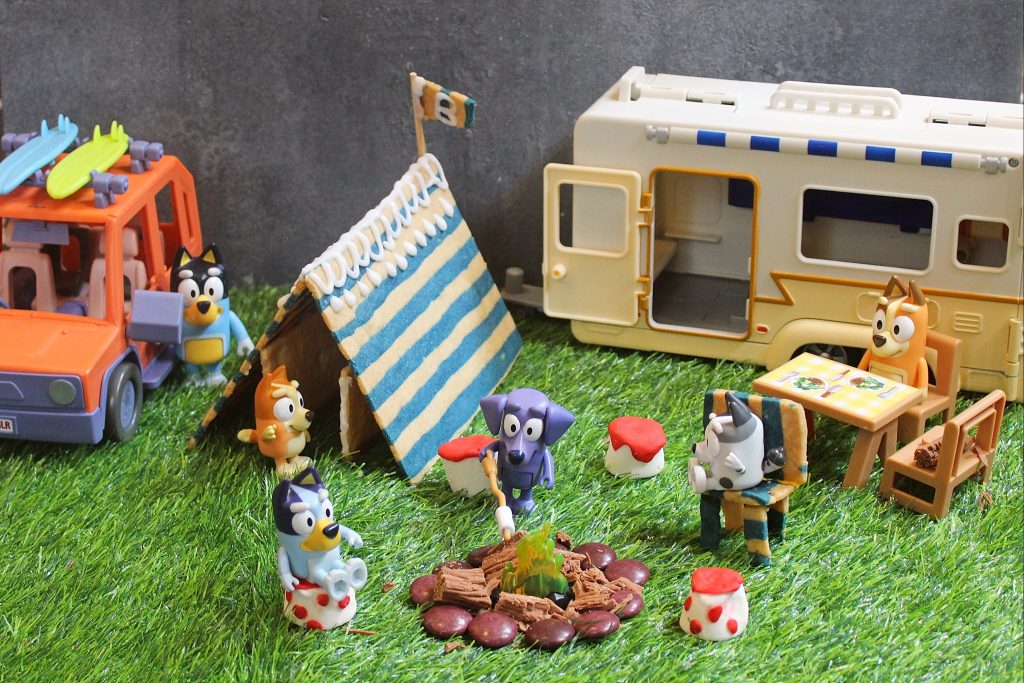 you will need:
For the maple biscuit
100g unsalted butter
1 tbsp maple syrup
60g caster sugar
175g plain flour
1 tsp vanilla paste
Blue gel food colouring
For the icing
For the campfire and decorations
Large marshmallows
Red fondant icing
Flakes
Round chocolate pieces
method
Heat oven to 180°C/160°C fan/gas 4. Beat together the butter, maple and sugar with a wooden spoon or electric whisk until it is light and fluffy.
Tip in the flour and vanilla and mix until you have a soft dough. You can use your hands and mix it together using them if it becomes too difficult. Remove ¼ of the dough and set aside. Divide the remaining dough into two and colour one of them blue using gel food colouring. It should be a dark shade as it will get lighter in the oven and leave the other half of the dough plain.
Roll the plain ¼ of the dough out to 1cm and cut two 18×5 cm rectangles out of it. Place on a tray with greaseproof paper and bake for 15 mins until golden brown and leave to cool. You can re-cut around the template with the help of an adult while the biscuit is still warm for a neat edge.
Roll out both doughs on a piece of parchment paper separately so that they are both 1cm thick, making them into a square. Slice down the dough into 1cm strips so that both have strips down them. Put them flat in the fridge for 30 mins to harden slightly. Roll out another sheet of greaseproof and using a palette knife lift of a strip of coloured dough onto it, and alternate putting a plain strip next to it. Continue with this until all the dough has been used up. Put some parchment on top of it and roll lightly over to join the colours. Put in the fridge to harden for 30 mins.
Using the template ask an adult to cut a two 18 x 12cm rectangles out of the stripy cookie dough. Spread apart on the greaseproof and bake on a flat baking tray for around 15 mins until just starting to colour. Remove and allow to cool fully.
To assemble mix the icing sugar with enough water to make a thick pipeable paste, do this gradually. Pipe a line of icing along the top of the striped biscuit and secure the other one to it, placing a glass on either side to keep it in place until the icing dries. Once dried, place the two smaller pieces under it to act as the sides of the tent. You can add designs to the biscuits too by placing the remaining icing into a piping bag and chopping a little off the top to start piping.
For the scene attach little round pieces of the red fondant on to the marshmallows with some water and one round piece of fondant on top of it to resemble a toadstool. For the fire, put the chocolate pieces into a circle and crumble a flakey chocolate in the middle of it.