Jasmine Moody – Storyboard artist
Meet the people who make the magic of the show: Storyboard Artist, Jasmine Moody.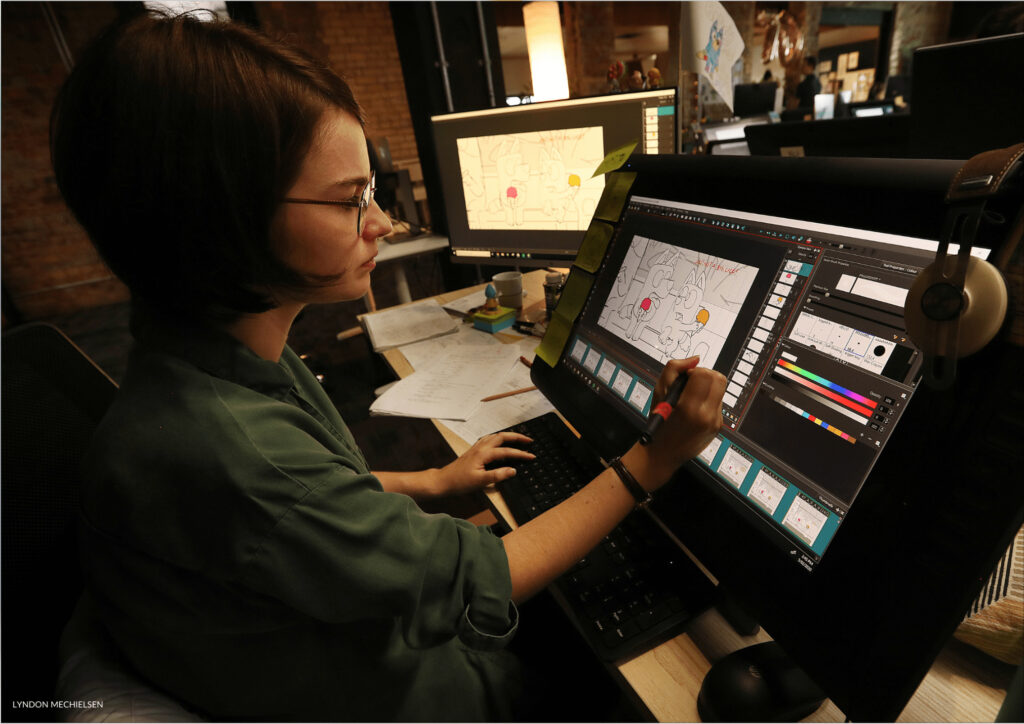 How did you join the Bluey team?
I was a janitor before I started on Bluey. There weren't a lot of jobs around after I graduated, so I took whatever I could. Prior to janitoring, I did a number of short contract and freelance work as a 2D animator, but the opportunities were small.
In 2016, I did a storyboard test for DisneyTV in Los Angeles. They liked my work and invited me to LA but rejected me upon realising that I wasn't living in the States. I was very disappointed, but I held onto my test. And I'm glad that I did, because the test was what I used to apply to a Ludo Studio job listing for work on a dog show in July 2017. A month later, I had a skype call with Joe Brumm and was asked to move to Brisbane to work on Bluey. I quit my janitor job the following day.
Did you always want to work as an artist in animation?
Apparently, I started drawing when I was 2 years old. One of my earliest memories is drawing on the walls while hiding behind our couch, then standing up to view whether it would be noticeable to my parents or not. I watched a lot of television as a child (we lived next to a video shop) and I was obsessed with Pixar movies. I knew I wanted to work in animation quite early on but didn't realise that I preferred storyboarding over animating until after university.
I don't particularly remember when it hit me, but at some point I realised that I really enjoyed helping craft the story instead of producing the final product. Despite that, I did some background art for season 2 and loved it.
Walk me through the role of a Storyboard artist and your process?
Storyboards are like blueprints – they form a basis for the artists in the next stages of production. The role of a storyboard artist is to translate the script and the director's vision into images by creating a series of drawings or "panels" that plan out the different shots and scenes within the episode. We are the first artists in the chain and work very closely with the creator and writer, Joe Brumm. Really, they're like black and white versions of the episode and take between 3 to 4 weeks to complete.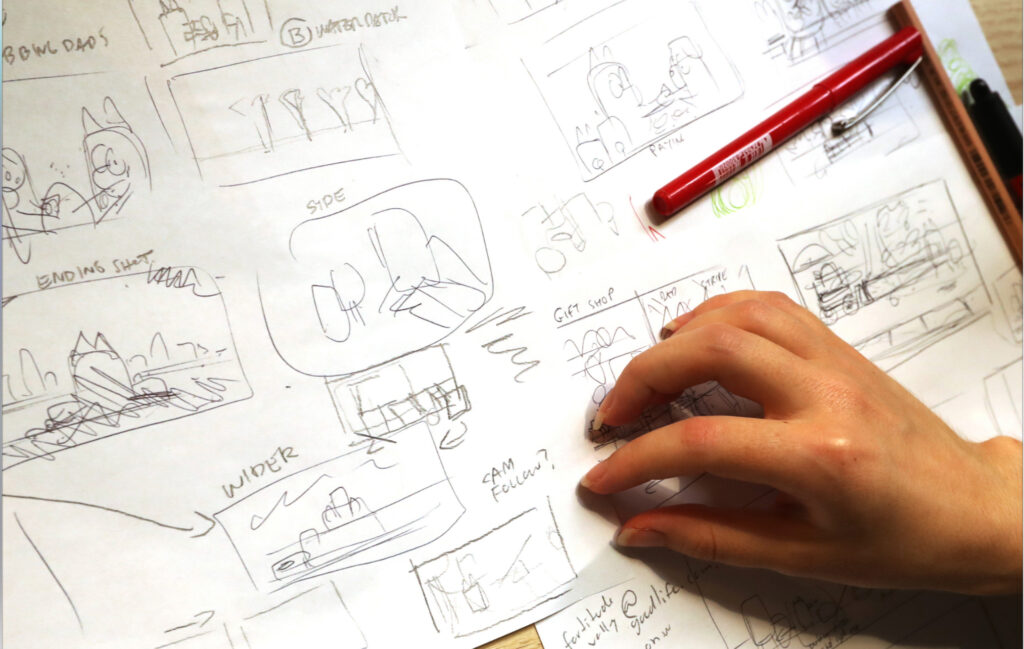 After a table read with Joe (literally sitting at a table reading the script together) I will start work on the first draft of the board. I will then apply changes to the board according to Joe's feedback and then continue working on it until completion. I spend a lot of time just sitting and envisioning the characters talking in my head. A finished Bluey storyboard can range from 500-900 panels depending on the complexity of the episode.
What has been your favourite episode to board so far?
My favourite episode that I've storyboarded would have to be… a tie between 'Camping' and 'Sleepytime'. It's tricky – I love them both so much. I actually teared up when I was in the middle of boarding 'Camping' – I shared a similar experience to Bluey and Jean Luc when I was a kid. I'm also really into flashbacks and flashforwards, so getting to draw Bluey as a teenager was life-giving.
If you could be any character in Bluey, who would you be?
Muffin is my favourite character in the series, but I relate to Pom Pom from 'Seesaw' the most, because she's small but hardy – like me. There's actually a background character in the episode 'Ice Cream' that is based on me. I'm a white, fluffy dog with a curly tail and I'm holding my favourite dessert. I also voiced the takeaway lady in 'Takeaway', so technically that's me too. I take on many forms.
What's the best part about working on Bluey?
The best part of working on Bluey would have to be the people I work with. The studio is filled to the brim with kind and talented artists. I'm very thankful to be a part of such a wonderful team. A big plus is that I get to tell people that I work on a show they love and see their faces light up. Also, Bagel Day in the office is good – the day where we get free bagels. I like the blueberry bagels. And I guess the fact that I get to draw dogs for money is also a plus.