5 Minutes with… Trudi, Art Director on 'Escape'
Meet the people who make the magic of the show with Trudi and the art direction for 'Escape'.
The Escape episode is a little different to what we're used to seeing on the adventures of Bluey. What is it that makes it so unique?
I think one of the main reasons this episode is so appealing is the fun, doodle drawing style which takes us into the wild imaginations of the Heeler family! Growing up, watching cartoons, some of my favourite episodes were when the characters suddenly were transported into another art style.
It takes the audience by surprise but allows the characters to push the boundaries and explore new ideas (which might not have been possible in their current situation i.e Bluey & Bingo in a rocket blasting off to space)!
The Dream House Car is literally what dreams are made of! Was it fun for the team to dive into the world of Bluey and Bingos imagination to make it a reality?
Absolutely! When the team first saw the amazing storyboard (by Chris Voigt) we could hardly contain our excitement. This episode was very different (in terms of design) and allowed us to step out of our comfort zone and just…play!
Just like Bluey and Bingo, we let our imaginations run wild. Myself and my Art Direction teammates had so much fun – from Costa designing the wonderful doodle versions of the characters to Rafferty creating the beautiful background space sequences – this episode was definitely a highlight for the Art Department and to see it all come together in Animation was amazing!
How long did it take for the Dream House Car design to come together?
The Dream House Car took around a week to design. Although the concept was simple – it was actually quite tricky to make it look child-like and believable.
When designing the props for this episode – the main focus was to try and not overthink things (which as artists could be quite challenging). Putting all our theory behind us our main goal was to just have fun!
We also referenced a lot of children's drawings to get a general idea of what a child might come up with and the sky was definitely the limit for the Dream house car! Those rocket engines really came in handy….
What's your favourite part of the Dream House Car? The 11 burger shops, the spa on the balcony, or the fact that it turns into a rocket?
All of the above! I can't say I've ever daydreamed about eating a burger, in a spa, whilst blasting off into space – but that does seem like quite the adventure! I definitely dig the spa area though. You better stock up on those coconut drinks Jerry Lee…
If you could create your own Dream House Car what would it look like?
Well….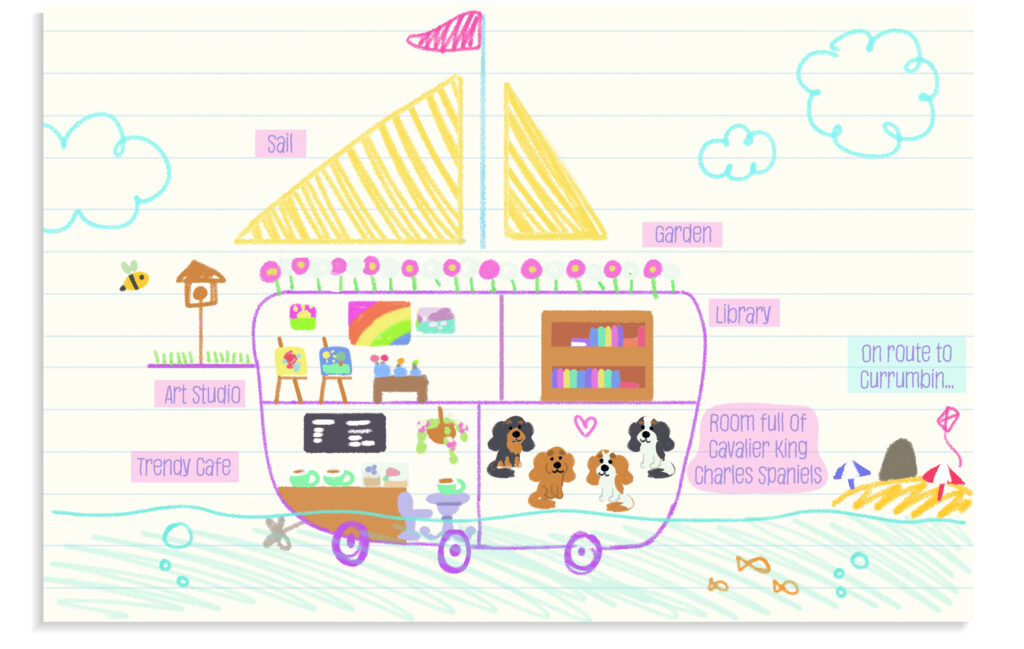 What's your advice to parents and kids who want to create their own imaginary escape?
Daydream, be creative and have some fun! Try to stay positive and make the most of the time you have with your family.
What's the best thing about being a part of the Bluey team?
For me, being a part of the Bluey team has been so rewarding. I am learning so much everyday (from my talented co-workers) and feel I am growing both as a person and also an artist. The studio is like one big family!
I am so grateful for the opportunity and proud to be a part of a show that is so relatable and close to home – portraying the beautiful Queensland setting that I and the Heeler family enjoy and love so much. Not to mention…I get to draw dogs all day.
Which Bluey character do you relate to the most and why?
Chilli! I feel Chilli is very down to earth and organised but also knows how to relax and have fun. She's also not afraid of a bit of hard work! (Although after a long week I sometimes feel like Muffin…)
And last but not least..How many coconut drinks would it take for Jerry Lee to come and work for me?
Three coconuts drinks should do the trick (but maybe add one extra umbrella for good luck)…!