Top 5 crafts for a bluey valentine's day
time to celebrate how head over heel(Er)s you are about that special somebody this year. show a best friend or loved one how much you care with these Bluey valentine craft ideas
1. fancy restaurant's on the menu
Get your pots and pans ready, it's time to cook! Show your special person just how much they mean to you by creating a bespoke Bluey fancy restaurant menu – including all their favourite foods. Simply download our template and fill it in. Want to take it a step further? Plate your delicious treats in heart shapes, spell out a meaningful message – go crazy. Most importantly, don't forget the beans!

2. Friends forever – friendship card
You don't need to spend lots of dollarbucks to show your appreciation. Create the perfect gift, straight from the heart, and give your best mate a homemade card instead. Draw a picture, write a poem, anything goes. It's bound to put a smile on their face.

3. Make a Friendship card game
Valentine's games night, anyone? Grab some yummy snacks, put on a movie and get ready for the best Bluey themed games night for your besties. Who wouldn't love that? Spend some quality time together colouring in character cards and coming up with your very own game ideas. The more creative and crazy the better – Bluey is always looking for new games to play. Let your imagination loose and see where your game can take you. It's heaps of fun.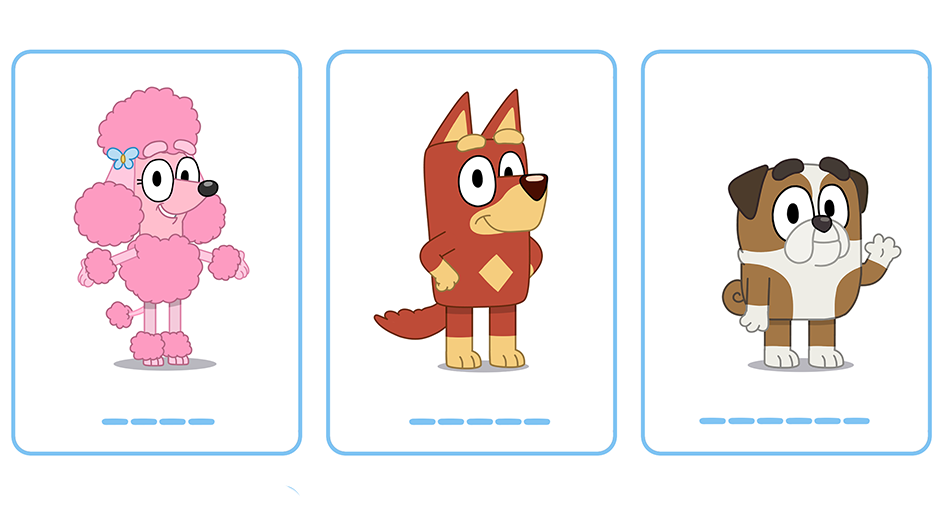 4. create a Hug Card for your special someone
What better way to tell someone you love them than to make them their very own Bluey hug card! Whether it's to Mum, Dad, Siblings or your pet, share the love and make someone feel special. Bluey's got you covered with everything you need, just click below to see the instructions and download the cut-outs. All that's left is a caring message.
5. valentine's Lamingtons – just as sweet as you are!
Add a touch of Aussie love with these delicious Valentine's lamingtons. Make them for someone close to your heart, or ask them to make them with you as a fun activity. When you mix chocolate with quality time together, it's a recipe for love.
Get social with Bluey
TikTok | Facebook | Instagram | Twitter | YouTube